Tiger
Our walk yesterday has the illustrious name Tiger and Van Hunenplak. The first part therefore also takes us via the bunker route. Here a part of the Tiger defence, part of the Atlantic Wall, is shown.
The Tiger deence is one of the few positions in the Netherlands that is still almost completely present. The complex measures seven hectares and consists of 100 bunkers. During the Second World War, more than 200 German soldiers lived and worked here. The bertha command bunker is almost unique in the Netherlands due to its impressive size. Of this type of bunker, only three are still in the Netherlands. Bertha and a few other furnished bunkers can only be visited during an excursion.
The visitor centre was the canteen bunker ("Wirtschaftgebäude") of the Germans during the war and has now been transformed into a beautiful information centre by the volunteers. Unfortunately, due to all corona measures, we were unable to visit this.
[osm_map_v3 map_center="autolat,autolon" zoom="autozoom" width="100%" height="450" file_list="https://cdn.notrace.nl/wp-content/uploads/2021/04/Tiger-en-Van-Hunenplak-route-No-Trace-1.gpx" file_color_list="black" control="fullscreen,scaleline,mouseposition" file_title="Tiger en van Hunenplak route" bckgrndimg="GDPR_bckgrnd.png"]
After the bunkers we get acquainted with another piece of inventiveness. The Plate is a sand and sludge bank that dries during low tide. At low tide, waterfowl can search for or equip food here. This slab, together with the stone dam in the distance, make the port system of Terschelling. These dams ensure that when the tide is low, the water is routed through the port. Due to this current, the port stays at a better depth and does not often need to be dredged.
Even further along we pass the place where the light once stood. This was one of two lights set up near the port. As soon as the captain saw both lights in one line, he was able to safely enter the port of West.
Van Hunenplak
We continue the route towards the second namesake of the Tiger and hunenplak route. This dune lake may have meant the rescue of some rare plants on the island. When in the 1950s the Coffins started cleaning up with a bulldozer, the then forester managed to save some plants. To give it a better chance, he had a low piece of dune dug out further and in this way provided a new dune lake. At this new dune lake he planted the pilvaren and shoreweed that he saved from Doodemanskisten. In 2008 this lake was completely cleaned up and the plants returned again.
During previous holidays, in September, we also photographed Zonnedeauw here.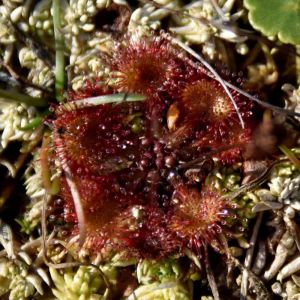 Both the bunker and the van Hunenplak stand for destruction and resurrection.
A nice balance on this walk that introduces us to what must once have been the hamlet of Stattum. Now there are only some high dunes that have blown over the hamlet that still consists of seven houses in 1650.