Today we were allowed to give our workshop Felting and Folding for Siegurd.co.uk. During our workshop we will take you through the history of wool. And get to know a lot of the applications.
We'll teach you what to look for when purchasing a rough coat. And teach you to judge for which operations it is best suited. In addition, we will also introduce you to some of these processing methods. But also the end products of these such as carding fleece, needle fleece and wick wool. We'll show you how to make these yourself from the raw fur or what to look out for if you buy them ready-made.
But for the most part, of course, you will be doing your own felting and fulling. We strive for everyone to go home with a finished piece of work.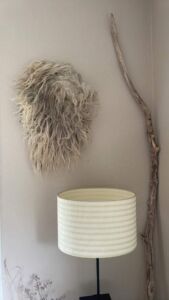 Because, due to the vacations, this is a very small group, we decided to add fur felting to the offerings as well. This was gratefully taken advantage of by 1 of the participants. She had been given the "assignment" from home to felt a sturdy fur piece for the wall. In our opinion, it worked out just fine!
The other enthusiastic participants went home with beautifully colored covers for their A5 notebooks.
We are already busy seeing if we can find a spot in the calendars in September to provide another felting and fulling workshop. If this doesn't work out, it will definitely happen next year. We will then offer 2 workshops. One that will be entirely dedicated to the felting of a fur (part). With the others, you have the choice of felting a cover, a bird picking house or a pair of felted slippers.
All that remains is a THANK YOU to Siegurd.co.uk for the request and Zizo Label for making the studio available.